THE GREAT ESCAPE!
DAILY WRITING PROMPT.
Hi folks, I hope you and yours are well, and coping with these unusual and difficult times. We might be physically confined to our homes at the moment, but stories provide a great way to escape. In stories we can go anywhere, at any time, with anyone!

With this in mind I thought I'd post a series of writing prompts over on my blog and Facebook page in case they might be of interest to anyone looking for some ideas on how to fill these school and work-free days.

I'm hoping these prompts will provide a spark. Let your imagination run with them any way you like. Write a story, a poem, draw a comic strip, compose a song or a piece of music, make a video, an animated flick book, draw something, make a sculpture from pasta shells, blu-tack and unicorn tears – whatever idea drops into your head. (Just don't go outside hunting for unicorns, as I suspect that's on the forbidden list).

Most importantly – have some fun with it and I hope you'll feel a sense of freedom! Let me know how you get on. You can tag me on social media or contact via the usual place here.

Look after yourselves and each other.
Best wishes, Dave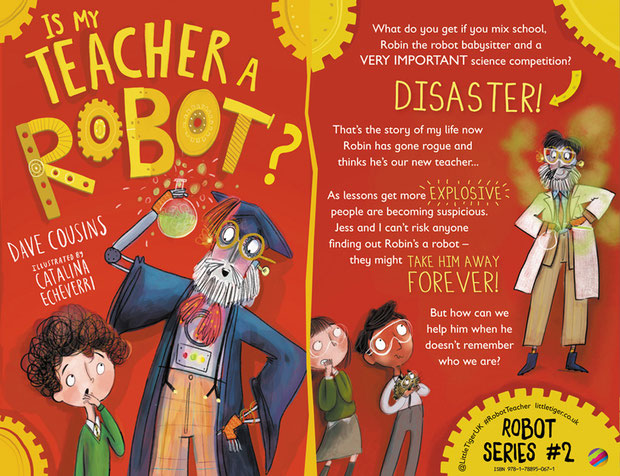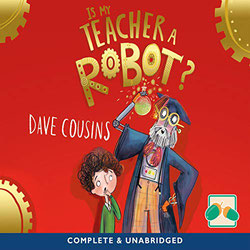 AUDIOBOOK
ALSO AVAILABLE!
You can now listen to the brilliant Peter Kenny read IS MY TEACHER A ROBOT? Available from your local library, Audible, Oakhill Children's Audiobooks etc. Hope you enjoy it!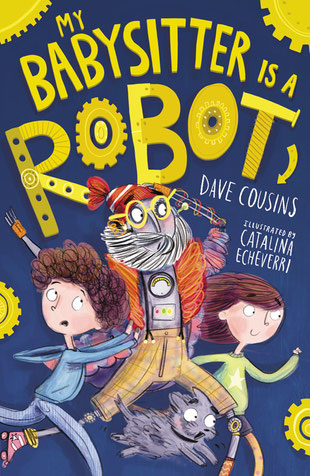 Find out how it
all started!
The first book in the series is available now in paperback, eBook and AUDIOBOOK.
"… a cute story with Dahlian shades as the children plot to get rid of the robot babysitter their grandmother has built for them … very funny … with a lot of heart and the illustrations add comedy too."
5 stars
Lilyfae (Amazon Top 500 Reviewer)
"My Year 4 class are loving this book. Dave has an incredible knack of writing for this age group that really connects with their sense of humour and imagination." Mrs K Harper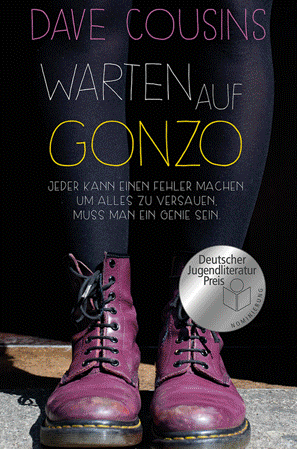 WAITING
FOR
GONZO
*
GRAMPIAN CHILDREN'S
BOOK AWARD WINNER
*
 "Dealing with some serious issues, Waiting for Gonzo manages to be simultaneously funny and thought-provoking."
—BOOKTRUST—
Out now in the UK, USA, Canada,
Germany, Korea, Italy and Poland.
Available in paperback, eBook and AUDIOBOOK (read by the author!)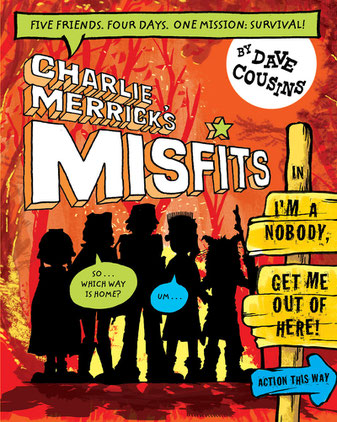 MORE MISFITS
MAYHEM!

"Fun, gung-ho stuff with great cartoons and endearing characters."
The Times
(Best Summer Reads)
"I loved this book so much I have read it twice already."
Tomasz, 9
"Funny, accessible
and deliciously irreverent …
perfect for thrill-seeking boys and girls of all reading abilities."
Lancashire Evening Post
"This is a great book, it's funny and even gives you great advice
on tying knots and finding your way without a compass."
Melissa, 8 (LoveReading4Kids)

Children's Book of the Month

Coventry Telegraph,
Children's Book of the Week
"You should definitely grab yourself a copy and enjoy getting
to know Charlie Merrick and his misfit friends."
Ross, 11 (LoveReading4Kids)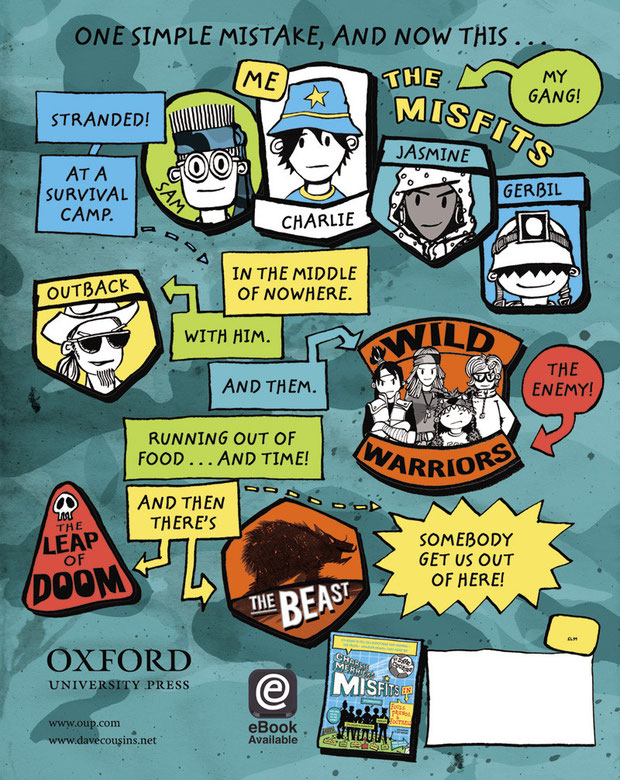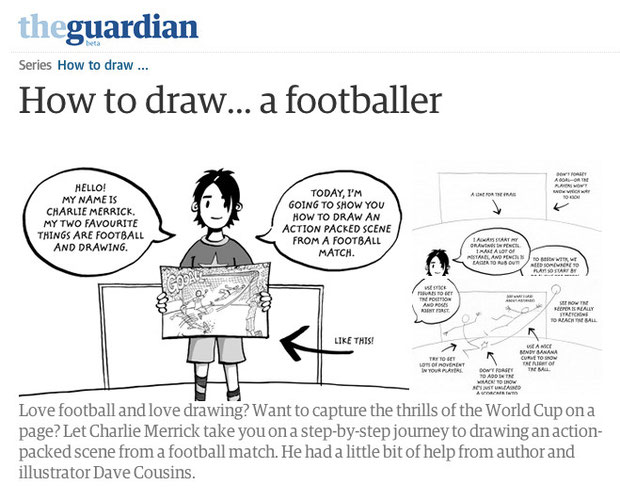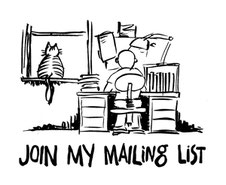 Be the first to hear when anything interesting happens … new books, events, freebies, competitions etc.
To register, just click the image and enter your details. Thanks!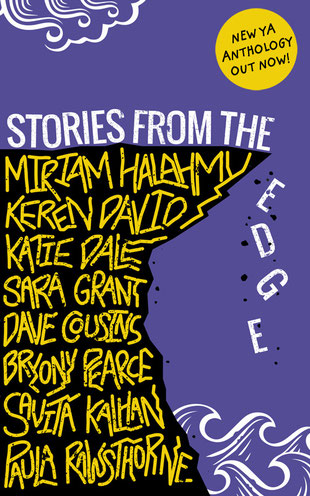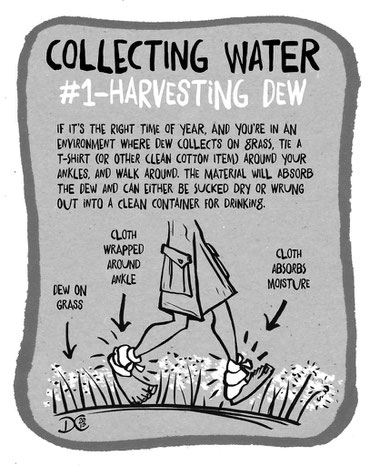 MY TOP TEN SURVIVAL TIPS

To celebrate the publication of the new Charlie Merrick's Misfits adventure,
The Guardian Children's Books kindly invited
me to choose my
Top Ten Survival Tips.
The book was also included in The Guardian round-up of Summer Reads, here.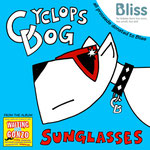 Download 'Sunglasses' from the Waiting for Gonzo soundtrack – only 79p! All proceeds donated to the Bliss charity.
Watch the video below.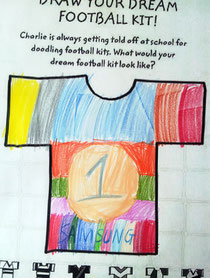 Thanks to Gabriel Cheung for sending in this brilliant kit of many colours.
Download the FREE Charlie Merrick Activity Pack and have a go at designing your own Dream Football Kit, or make some football cards for your team. Email your designs to the address on the pack, and I'll post my favourites here.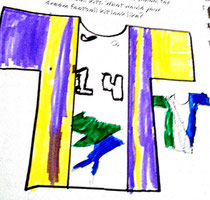 I really like the design of these two kits sent in by Mario Shehu. They remind me a bit of my favourite Birmingham City 'penguin' kit—especially the blue, white and green one in the background. Great stuff, thanks Mario.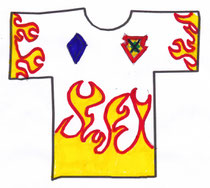 These fantastic kits were designed by Year 6 pupils at St. Saviour's School in E14. (click the shirt to see the full set)