WAITING FOR GONZO (for readers aged 11+)
My second young adult novel published by Oxford University Press. It's about a 13-year-old "disaster magnet" of a boy called Oz, who learns that sometimes even the biggest mistakes can turn out to be for the best. Winner of the Grampian Children's Book Award, this book also ended up with its own soundtrack album and music videos! (see below)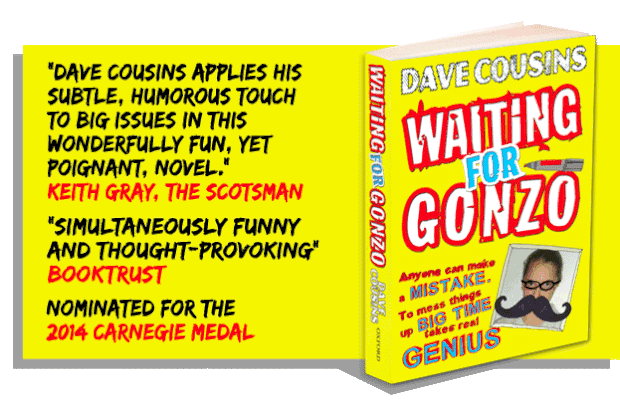 Oz has a talent for trouble, but his heart's in the right place . . . usually.
Uprooted from his friends and former life, Oz finds himself stranded in the sleepy village of Slowleigh. When a joke backfires on the first day at his new school, Oz attracts the attention of Isobel Skinner, the toughest kid in Year 9.
After causing an accident that puts his mum in hospital, Oz isn't exactly popular at home either. His older sister's no help, but then she's got a problem of her own—one that's growing bigger by the day.
Oz knows he's got to put things right, but life isn't that simple—especially when the only people still talking to you, are a hobbit-obsessed geek and a voice in your own head!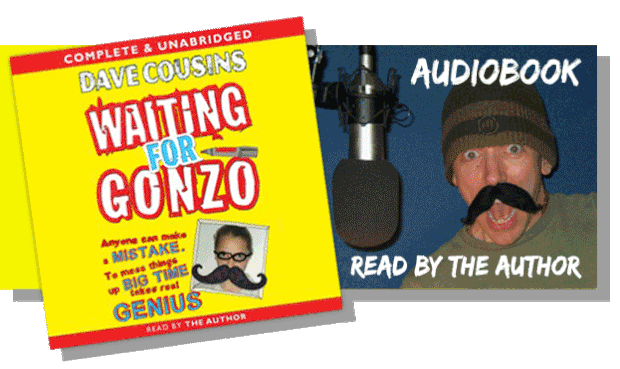 Praise for Waiting for Gonzo 
"There are serious issues bubbling underneath the action … wrapped up in an enjoyable, light-hearted romp that is full of sparkling dialogue. There are enough crooks, embarrassing teenage situations and gadgets to keep teenagers - of both sexes - fully entertained."
Martin Chilton, Telegraph
"Dave Cousins applies his subtle, humorous touch to big issues … in this wonderfully fun, yet poignant, novel."
Keith Gray, The Scotsman
"This book will be a funny and enjoyable way to hook (boys) into some valuable emotional literacy by stealth!"
The Reading Zone
"Dave Cousins has created a distinctive narrator in Oz, as well as a hugely believable cast of supporting characters in this heart-warming and humorous novel. Dealing with some serious issues, Waiting for Gonzo manages to be simultaneously funny and thought-provoking."
Booktrust
"This book is brilliant and I love it."
Nigel Hinton, Carousel
"Teen realism with humour and heart: strongly recommended for teen boys and girls."
Beth Kemp, Books Magazine
"Focussing on the perils of being a teenager, Cousins has created a witty and highly engaging story where there is never a dull moment."
Bookbabblers
"Teenage readers are notoriously difficult to please … writing a book with a universal appeal across that age group is no mean feat. Cousins, however, manages it with an enviable, unique style."
Fictavia
"Dave Cousins has definitely become a must-read author for me, I can't recommend his books highly enough to anyone who is looking for a funny story with real heart."
Feeling Fictional
". . . a book which is both funny and thought-provoking."
The Bookbag
Awards
Grampian Children's Book Award Winner 2014
Nominations
Amazing Book Awards (longlist)
Angus Book Award (longlist)
Carnegie Medal (nomination)
Coventry Best Book (shortlist)
Essex Book Award (shortlist)
Hounslow Teen Book Award (shortlist)
North Lanarkshire Catalyst Teen Book Award (longlist)
Nottingham Brilliant Book Award (shortlist)
Redbridge Book Award (longlist)
St Helens Book Award (BASH) (shortlist)
UKLA Book Award (longlist)
Wirral Paperback of the Year (shortlist)