SCHOOL VISITS AND EVENTS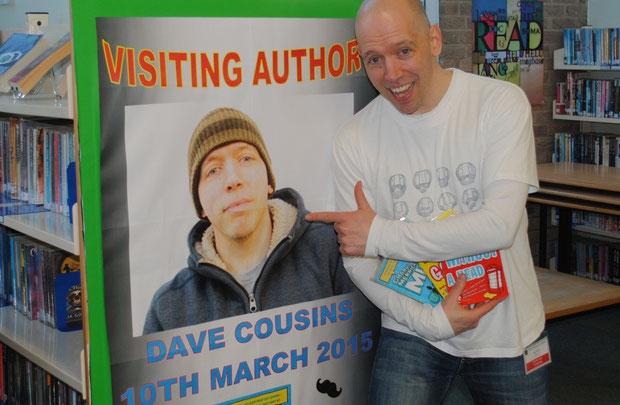 "Brilliant! An inspiring performance that really engaged the students."
Janet Rothwell, LRC Manager, Langley Grammar School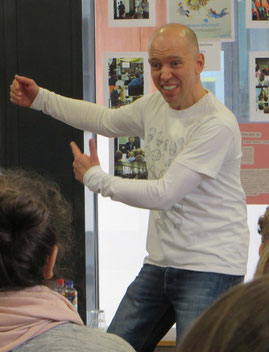 Join me on my journey to becoming an author! From dreams of joining the NASA space program, to making comics and eight years as a minor rock star—plus lots of reading and writing in between. Along the way, I discuss the inspiration for my stories and how learning to "sleep-type" helped me finish my first novel. The event includes readings from 15 Days Without a Head and Waiting for Gonzo, as well as an opportunity for questions and book signing.
I also offer writing workshops in which I show students techniques for generating ideas and getting stories down on paper, using group brainstorms and individual mini writing tasks.

If you're interested in booking me to visit your school, library or literary event, please email me and I will send you further details and we can discuss availability. Thanks.
"Seeing 200 faces rapt, involved and amused by Dave talking about his inspiration for writing was a joy. Introducing them to new books in such a lively manner will undoubtedly lead to more reading enjoyment."

Hilary Sutton, Librarian, Bishop Stopford School, Northamptonshire
"Dave Cousins was funny and energetic, engaging with the year 7s and holding their attention for the whole hour. They were so inspired that we sold out of his books and have had to buy many more copies for the library. Thank you so much."

Susannah Phillips, Librarian, Skinners' Academy, London

"Dave Cousins was very generous with his time and made some really honest comments about being a writer – something that is always valued by students. It was a very useful experience with some great insights being offered for all budding writers."
Louise Sautschak, Librarian, Northwood School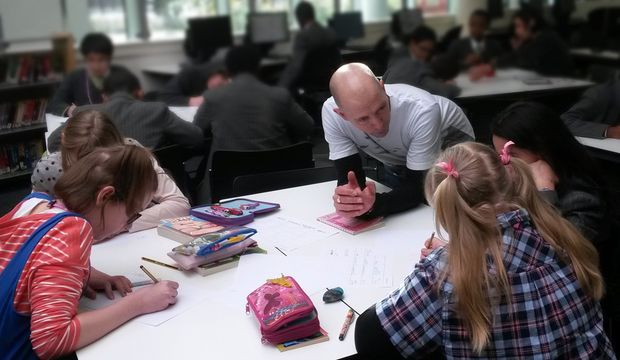 IDEAS FOR EXPLORING THE BOOKS WITH STUDENTS …
Reading Group Notes for 15 DAYS WITHOUT A HEAD
Ideas for exploring 15 DAYS WITHOUT A HEAD with students in Years 7, 8 and 9.
15 Days Reading Notes.pdf
Adobe Acrobat Document
239.7 KB
Reading Group Notes for WAITING FOR GONZO
Ideas for exploring WAITING FOR GONZO with students in Years 7, 8 and 9.
Waiting for Gonzo reading notes.pdf
Adobe Acrobat Document
459.6 KB
 "I really like the way Dave told us stories about his family and how different events in his life have led to him becoming a writer." Chipaka Henry
Chipaka Henry, Skinners' Academy, London

FREE WRITING TIPS to download …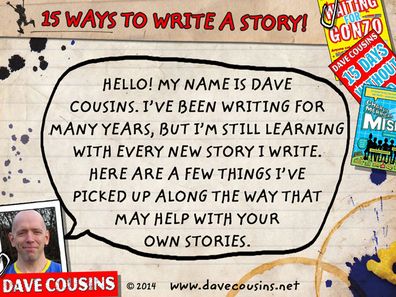 When visiting schools I'm always impressed by the number of students who are working on their own stories. I'm often asked for writing tips, so I collected 15 of my favourites into a handy slideshow. It's FREE to download in a variety of formats below. I hope you find them useful.


15 WAYS TO WRITE A STORY! (Powerpoint)
DaveCousins15WritingTips.ppt.pps
Microsoft Power Point Presentation
5.4 MB
15 WAYS TO WRITE A STORY! (Multi-page PDF)
DaveCousins15WritingTips.pdf
Adobe Acrobat Document
2.5 MB
15 WAYS TO WRITE A STORY! (High-res PDF in case you want to print)
DaveCousins15WritingTips4Print.pdf
Adobe Acrobat Document
17.4 MB
 "I thought the way he talked about how hard he had to work to become a writer, living in his attic and writing for years before getting published was inspiring."

Souheib Benfetouha, Skinners' Academy, London

A few event photos from my travels …
In March I visited Langley Grammar School in Slough to talk to students from Year Seven, Eight and Nine about 15 Days Without a Head and my journey to becoming an author.

A few weeks later an enormous envelope of cards, drawings, poems and cartoons arrived in the post. To say it made my day would be an understatement! I was so bowled over and impressed by the creativity on display I had to share it.

Huge thanks to all the staff at students at the school for making me so welcome on the day, and for taking the time to send me these …
"Thank you for visiting our school. It was really interesting about how you became an author. Your story has really inspired us to fight for the things we want in life."
Faiza, Nousheen, Marium and Ayswarya, Langley Grammar School
"You were very funny. I especially liked the fact that you acted out what you said. I found this very effective and interesting."
Mohinder and Rickweer, Langley Grammar School
Earlier in the year I visited Our Lady's Convent High School and Clapton Girls' Academy in East London as part of the Pop-Up Festival Booklinks Project. Here is some of the fantastic work students at Our Lady's produced prior to my visit. Below that is a short film about another excellent Pop-Up Booklinks project I was lucky enough to be involved with. See if you can spot me!