15 DAYS WITHOUT A HEAD (for readers aged 11+)
My debut young adult novel about two brothers fighting to keep their family together. Author Paula Rawsthorne described it as: "a tough tale with humour, warmth, and a cast of beautifully depicted characters" — which sums it up rather nicely!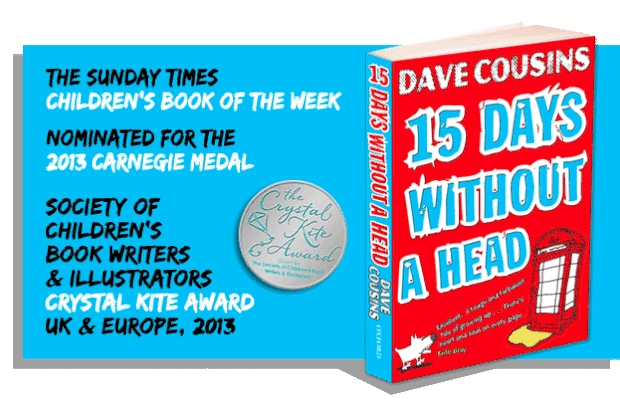 How far would you go to keep your family together?
Meet Laurence – fifteen years old and six feet tall – he'll dress up as his mum and impersonate a dead man on the radio. Meet Jay – his six year old brother. He looks like an angel but thinks he's a dog. He'll sink his teeth into anyone who gets in the way.
Today is Tuesday – and the next fifteen days will change the boys' lives for ever …
Awards
2013 SCBWI Crystal Kite for UK & Europe
 Premio Andersen (15+ category for Italian edition published by San Paolo)
Wirral Grammar School for Boys Book Awards 2013

(Winner of Best Real Life Book & Best Overall Book)

Nominations
Carnegie Medal
Branford Boase
Brilliant Book Award
Grampian Book Award (shortlist)
James Reckitt Hull Children's Book Award (shortlist)
Lancashire Book of the Year Award (shortlist)
Llanelli Schools Best Read of the Year (shortlist)
North East Teenage Book Award (shortlist)
Redbridge Teen Book Award (2nd place)
Rib Valley Book Award (shortlist)
St Helens Book Award
AROUND THE WORLD IN 15 DAYS!
For those of you taking your reading experience into the twenty-first century, the Kindle Edition of 15 Days Without a Head is now available for download.

Praise for 15 Days Without a Head
"This heartfelt well-told debut is a delight."
Nicolette Jones, The Sunday Times

"Incredible lightness of touch and humour but also seriously weighty . . . reminded me a lot of Frank Cottrell Boyce." Anthony McGowan

"An excellent debut. It's a tough and turbulent tale of growing up the hard way,
but there's heart and soul on every page."
Keith Gray, the award-winning author of Ostrich Boys

"Cousins' sheer inventiveness coupled with Laurence's sparky voice, keeps the story from becoming depressing or worthy." Suzi Feay, Financial Times

"A tough, charged . . . gripping story."
Julia Eccleshare, Lovereading4kids

"Great characters, snappy dialogue and most importantly, huge of heart. Magic."
Phil Earle, author of Being Billy
"Unputdownable . . . a jewel of a book."
Candy Gourlay, author of Tall Story
"Some books you read and find entertaining. And some books you read and never forget. This is one I will have in my mind for a long time."
Paula Hardiman, PaulaSHx blogger

"I want to put this book in every teenager's hand." Serendipity Reviews
 "It's a book that everyone should read
so if you're only going to take my advice once this year make it this book."
Sarah Gibson, Amazon Vine top 500 reviewer
"A fine book. Laurence and Jay are so sensitively and sweetly imagined that I wanted to rush round to Parkview Heights myself, to give them a hug and a bag of chips!"
Julie Hearn, author of Rowan the Strange
"A surreal and witty thriller that will wow readers"
Red House Books
"Dave Cousins' fantastic writing laces a tough tale with humour,
warmth and a cast of beautifully depicted characters."
Paula Rawsthorne, author of The Truth About Celia Frost
"15 Days Without a Head captures perfectly some of the struggles children face living with an alcohol-dependent parent … by writing this moving story Dave Cousins can help children to realise that they are not alone, and that there is help for them; he gives them a voice."
Alison Jarvis, National Association for Children of Alcoholics (NACOA)

"This is one of the best contemporary novels I have read this year.
I would put it up there with My Sister Lives On The Mantelpiece. 
I want to put this book in every teenager's hand and make them read it."
Vivienne Dacosta, Serendipity Reviews
"This book is truly awesome! It has everything a good book needs. It is funny and witty,
but with a serious edge giving the novel another layer. Excellently done!"
Rewan Harper, 14
"Incredible! A roller coaster ride of emotions, I empathised with the characters and loved every word. 15 Days Without a Head is not the kind of book that I would usually choose, however I really enjoyed reading it. Perhaps it was the many twists and turns or maybe the great mix of different characters, from the young Jay, whose innocence I particularly liked, to Baz the totally mad radio presenter, whose over the top personality was so in your face he was almost annoying. The book showed me a perspective on life that I have not seen before.
A great page turner and a must read for anyone!"
Grace Masters, 15
"This book is immense, 10/10. I could see everything happening in my head as I read. I really felt for Laurence and couldn't stop myself from thinking of ways to help him out. I didn't want it to stop and now I want another 15 Days."
Josh Bouvier, 12
"A delightful story about the relationship between two brothers and the hardship they face. The different mysteries that Lawrence, Jay and Mina solve keep you reading and make you feel like you're part of the gang. I'd give this book a 5 star rating."
Alice Keech, 12
"This book is ADDICTIVE. Beautifully written, showing the true strength of love and the power of family. The story really captures the feeling of having it tough growing up, but at the same time having the courage to stand by what you know is right and fighting for your family."
Charlotte Noddings, 15
"Amazing! A gripping story with twists and turns on every page.
An emotional journey that both you and the character travel."
Ciboney Durrant, 16
"A gripping and recommended read, 15 Days Without a Head is a gritty, soulful tale of two boys on a path to survive and change their lives for the better. I thought the whole concept of the book was an excellent idea, and I was also unable to predict the outcome. I really enjoyed the moments with Baz's Bedtime Bonanza, which were funny and interesting. I liked the fact that all of the characters were lovable and yet hateable, so they seemed realistic –
like Mum, who was a good person who just did the wrong things."
Bryn Holmes, 12
"15 Days Without a Head is an absolutely brilliant book. It is a real insight into how turbulent life can be and how far some people will go to keep their family together. There was nothing I didn't like about the book, and is actually one of the best I have read in a while."
Luke Goodsall, 14
"This book is great! An exciting read that keeps you glued to every page, wanting to find out more about what the two brothers have to face on their quest. A story that shows how
quickly a boy has to grow up and take responsibility for his little brother, protecting
him from the truth so that they are both kept safe."
Lewis Keech, 13
"I have recently finished 15 Days Without a Head and I feel it could be one of the best books I've ever read. I think that anyone who hasn't read it is seriously missing out."
Dorothy Harper, 11
"A brilliant story. Vivid and memorable.
You can empathise with the characters every step of the way!"
Phoebe Durrant, 13
"A great read; this book really explores the main character's emotions
in an enjoyable and gripping way. Brilliant!"
Joel Nicell, 12
"15 Days Without a Head is an absolutely fantastic book right from the start
which somehow manages to get better with every page turned.
It really shows how hard life can be for some people."
Isabelle Goodsall, 12