TOD.ERNST AKA DEAD WEIRD (11+ teen/YA)
(German edition)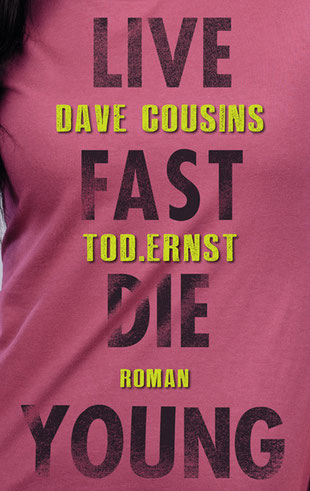 "This is your actual life and death situation, darling!
If you can't pull something out of the bag now, frankly you don't deserve to live."
Alexandra Weir is dead.
But that's the least of her worries.
Death has a loophole,
which means Alex can relive the last few hours of her life
and this time try to stay alive.
But at the end of the day . . . somebody has to die.
Joined by her estranged best friend and a kick-ass pensioner with a death wish, the first thing Alex has to do is accept the truth of what is happening.
With the voices in her head screaming at her to run and hide, will Alex be able to keep her panic attacks at bay long enough to actually DO SOMETHING? Because if she wants to survive, Alex will need to learn that there is more to living than not being dead.
*
I'm delighted to announce that my latest teen/YA novel is currently available in Germany. I'd like to take the opportunity to thank Jean-Claude Lin and everyone at my wonderful publisher Verlag Freies Geistesleben for their continued support and belief in my stories. Special thanks to Anne Brauner for yet another superb translation – including this quote from a review in German magazine BUCHWELT.
"What a horror trip, what an opportunity! From page 1 this is an exciting book about the possibility of second chances and always having a choice to decide what to make of our lives and how to use them." – BUCHWELT

Unfortunately, my German isn't anywhere near good enough to read TOD.ERNST, so I'm hoping other language editions will follow. Watch this space!